Bardic Circle
at Witchvox

---
ADD Your Musical
Performace
---
Vox SiteMAP
---
News & Features:

Home Page
Wren's Nest
---
---
---
---
---
---
---
| | |
| --- | --- |
| Witchvox Chapter: Pagan Music | Chapter Page Views: 3,244,635 |
Becalmed
(words & music by Trad arr David Pendragon)
Om Namaha Shiva Om Hari Om


copyright 2000 Music by Pendragon Songs
Bardic Circle Featuring...

David Pendragon and Tribe ...

Becalmed
(by Trad arr David Pendragon)


Audience Count: 5,511



The Story...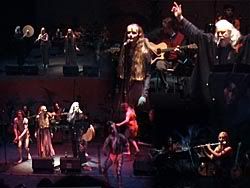 We would like to offer something a little different to the Pagan community with this
Bardic Circle. We are actually going to take you to the performance!
Tribe is a band that over the years has connected together the talents of over 60 musicians, in Canberra and also from all over the planet via the Internet. This incarnation of Tribe that you will see in the video consists of the local Canberra musician members and some Aboriginal Dancers.
The piece of music is a ritualised Shamanic piece, with a Sanskrit chant Om Namaha Shiva overlaying a variety of musical passages of one theme.
It is all constructed around the rhythmic strumming of the chord E minor, with a following strike of a 12th fret
harmonic, creating a hypnotic entrancing vibration.
This was the opening sequence of the concert.
Natalia's soaring vocal and its moments of intense concentrated energy, focus all the musicians to a common goal, centredness of purpose. This was one of the most powerful concert that I [ David Pendragon] have ever been involved in, the absolute connection between all of the performers was astounding, more so because we never got to do a rehearsal! The entire concert was a 'free form' event where everybody just did their thing when it 'felt' right to do it.
The magical energy of this night, I believe, comes across in this video. It will be a night that remains with us for ever.
So we invite you to share with us that moment here at the Bardic Circle. We welcome you to this Sacred Space. As we say as our 'catch cry' "May we meet you in the Music"
Blessed Be

[ This is the only existing edited footage of this beautiful concert by Tribe in 2001. The concert was held at a Canberra Theatre and this video was shot by local film students as part of their year final exams.
The natural lighting, while it initially appears to be a little 'under lit' has its own charm and is an accurate representation of the real environment. ]

Recorded: Live at a Canberra Theatre
Guests/Players: Vocal: Natalia Christiana
Vocal: David Pendragon
Bass : Bill Hall
Acoustic Guitar: Ben Mansfield
Flute: Rebbeca Lloyd
Percussion: Jim Shorrock
Didgeridoo: Warren Gunther and Duncun Smith
Shaman Rattle: Medician Crow
Aboriginal Dancers: Dreamtime
Eygyptian Dancer: Alison
Keys: Henry Price
Drums: William Iamisiba
Shaman Drum: David Pendragon

Technical Notes: Filmed using students from the local Film Collage, 4 cameras and audio mixed at 'The Studio'. The lighting is the natural 'off stage' light.

Artist Profile: Tribe has recently evolved into Tribeworld Ensemble and Pendragon Hall [ Music 4 Water Project ] You can hear more of these two bands by visiting the website.

Website: http://www.projectoverseer.biz/music/members/29/

LISTEN to the mp3 File: Click HERE

To view ALL of Our listings: Click HERE

Contact Us Via Email...

Email Invites Note: Yes! I have opted to receive invites to Pagan events, groups, and commercial sales


---
---
---
---
---
---
---
---
---
---
Web Site Content (including: text - graphics - html - look & feel)
Copyright 1997-2014 The Witches' Voice Inc. All rights reserved
Note: Authors & Artists retain the copyright for their work(s) on this website.
Unauthorized reproduction without prior permission is a violation of copyright laws.

Website structure, evolution and php coding by Fritz Jung on a Macintosh G5.

Any and all personal political opinions expressed in the public listing sections (including, but not restricted to, personals, events, groups, shops, Wren's Nest, etc.) are solely those of the author(s) and do not reflect the opinion of The Witches' Voice, Inc. TWV is a nonprofit, nonpartisan educational organization.

Sponsorship: Visit the Witches' Voice Sponsor Page for info on how you
can help support this Community Resource. Donations ARE Tax Deductible.
The Witches' Voice carries a 501(c)(3) certificate and a Federal Tax ID.

Mail Us: The Witches' Voice Inc., P.O. Box 341018, Tampa, Florida 33694-1018 U.S.A.