Bardic Circle
at Witchvox

---
ADD Your Musical
Performace
---
Vox SiteMAP
---
News & Features:

Home Page
Wren's Nest
---
---
---
---
---
---
---
| | |
| --- | --- |
| Witchvox Chapter: Pagan Music | Chapter Page Views: 3,721,489 |
Party On Jesus
(words & music by Trickster)
well Jesus Christ served up some loaves and fishes
he turned water into wine and it was delicious
he wore a lampshade on his head like a thorny crown
yeah, Jesus Christ, he liked to party down
he used to play hackysack and skinny dip in the creek
he was a bearded robe and sandal wearing long haired Pagan freak

well Jesus had a chalice called the Holy Graille
he used wafers and wine for his cakes and ale
he had a dozen brothers help to spread his lovin'
Jesus makes thirteen, hmmm... sounds like a coven
he had magickal powers and a certain mystique
he was a bearded robe and sandal wearing long haired Pagan freak

well Jesus went to the temple, they wuz stonin' some chick
he said "if you never sinned, you can toss the first brick"
well a rock come a'flyin', knocked him flat on his ass
Jesus say "Mama, you're a barrel of laughs!"
she nailed him again when he turned the other cheek
he was a bearded robe and sandal wearing long haired Pagan freak

well Mary Magdalene was a prostitute
she say "I'll rub your feet if you take off your boots"
Jesus said "Mary, do you think we're compatable?"
Magdalena say "Jesus, you're a party animal!"
he started speaking in tongues and she dug his technique
he was a bearded robe and sandal wearing long haired Pagan freak

well Pontious Pilate was a Roman pig
Jesus gave him the message, but he just couldn't dig
Jesus said "peace and love and blessed be!"
Pilate said "nail that hippie's ass to a tree!"
Jesus said "I guess this just ain't my week!"
he was a bearded robe and sandal wearing long haired Pagan freak

well they buried Jesus in a big old cave
they used a gigantic boulder to seal up his grave
Jesus woke up, he rolled away the stone
all his friends come a'callin', Jesus wasn't at home
the found him behind the rock, taking a leak
he was a bearded robe and sandal wearing long haired Pagan freak

well Jesus may be a god, but he isn't unique
cause he's a bearded robe and sandal wearing long haired Pagan freak


copyright 2002 Wiccabilly Circus
Bardic Circle Featuring...

Loke E. Coyote [a Witchvox Sponsor] ...

Party On Jesus
(by Trickster)


Audience Count: 20,161



The Story...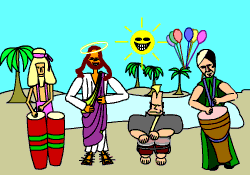 A few years back I went to a gathering at Wolvenwold. Kenny Kline (the original "Pagan Musician", check him out) hosted a workshop on various Pagan deities. During the workshop, he mentioned that there are Pagan goddesses for almost all situations, but there isn't really a nurturing Pagan god. This got me thinking.

We all know how various Pagan symbols, rituals and holidays have been co-opted and twisted by a certain religion which will remain nameless. The Christmas tree, which was once a symbol of life is now reduced to dead trees in the living room. Samhain, which to us is a reverence for ancestors and the cycle of life/death/rebirth, is now nothing more than a chance to dress in costume and beg for or sell candy. The list goes on and on.

It came to me that there was indeed a Pagan god of nurturing, but that he too had been absorbed. Someone who preached peace and love, who taught us to help each other and to share with those less fortunate. These days it is said that "he died for us", but I believe he lived for us and that his message has been bent beyond understanding. His words are echoed by the Great Ones, Bill and Ted: "Be excellent to each other and party on dudes!"

I'm speaking, of course, of Jesus Christ. Nowadays, his name has been taken and used, often completely against his own professed doctrine. He's been used to justify war and blind obedience, traits which he himself would never espouse. Most Pagans shy away from him because he's owned by that other religion, failing to see that his teachings are not what that religion has become.

Just as Pagans have reclaimed the word "witch", so we might also do well to reclaim Jesus Christ as the Pagan god of nurturing.

So I got to thinking about the various stories told of Jesus. For example, he turned water into wine. He could have turned it into milk or orange juice, or even into clean water. But he turned it into wine. He took a small amount of food and managed to stretch it to feed a huge crowd. I know many Pagans who've had to do that! His words of peace, love and blessing, his philosophy that the "kingdom is within", it's all very Pagan. There's also that wafers and wine thing which sounds very much like cakes and ale, which he served to the other twelve members of his coven.

Throw in a Jesus joke or two and you've got this song. Basically, I guess I'm saying he's a bearded robe and sandal wearing long haired Pagan freak.

Recorded: Wiccabilly Studios late summer 2002
Guests/Players: Rainbow provides the voice of Jesus in a couple between-verse dialogs. He's right at home saying stuff like "Pass that chalice my way, brother man!". Rainbow and his mate Bear Woman also hosted the recording sessions at their home, not to mention letting us camp in their driveway for 5 months or so. They've got a way cool witch shop in San Marcos called Goddess Season. Check it out if you're ever in town.

Technical Notes: Thru the miracle of multitracking, Trickster manages to sing and play two guitars, bass and harmonica all at the same time. The rhythm track is courtesy of Loke E. Coyote's synthetic percussionist Dr. Roland Boss the Fifth. Well, OK, it's a drum machine. It's all recorded, mixed and mastered digitally on a Roland VS-1680.

Artist Profile: Loke E. Coyote started out when Trickster and Diana McFadden met up at the Heartland revel fire. Diana was playing a gig with one of her other bands, Green Crown. They hooked up with Tawnney and Nighthawk, who were at the time drumming for Velvet Hammer/Dreamtrybe, Jammin Sam and a bass player named Kevin to cut their first live CD. That lineup lasted one show, but Loke E. Coyote carried on as Trickster and anyone he could talk into jamming with him. They did another live disk with SONA, and later produced a rock opera Druid Four Winds with the help of many fine Pagan musicians. The players included members of the Raft, Galapagos, Cherries-n-Silk, Gypsy Fire, and Dreamtrybe, with Dana Davis of Velvet Hammer, Butterfly Tree and Wyrd singing lead. The rock opera was very serious stuff and Loke E. fans began to wonder when they'd return to the comic wiccabilly style which first defined the group. The latest Loke E. Coyote disk, "Yipe! Hype!" is the answer. It's good old Pagan garage rock with lots of humor.

Website: http://wiccabilly.com

LISTEN to the mp3 File: Click HERE

To view ALL of Our listings: Click HERE

Contact Us Via Email...

Email Invites Note: Yes! I have opted to receive invites to Pagan events, groups, and commercial sales


---
---
---
---
---
---
---
---
---
---
Web Site Content (including: text - graphics - html - look & feel)
Copyright 1997-2019 The Witches' Voice Inc. All rights reserved
Note: Authors & Artists retain the copyright for their work(s) on this website.
Unauthorized reproduction without prior permission is a violation of copyright laws.

Website structure, evolution and php coding by Fritz Jung on a Macintosh.

Any and all personal political opinions expressed in the public listing sections
(including, but not restricted to, personals, events, groups, shops, Wren's Nest, etc.)
are solely those of the author(s) and do not reflect the opinion of The Witches' Voice, Inc.
TWV is a nonprofit, nonpartisan educational organization.

The Witches' Voice carries a 501(c)(3) certificate and a Federal Tax ID.

Mail Us: The Witches' Voice Inc., P.O. Box 341018, Tampa, Florida 33694-1018 U.S.A.